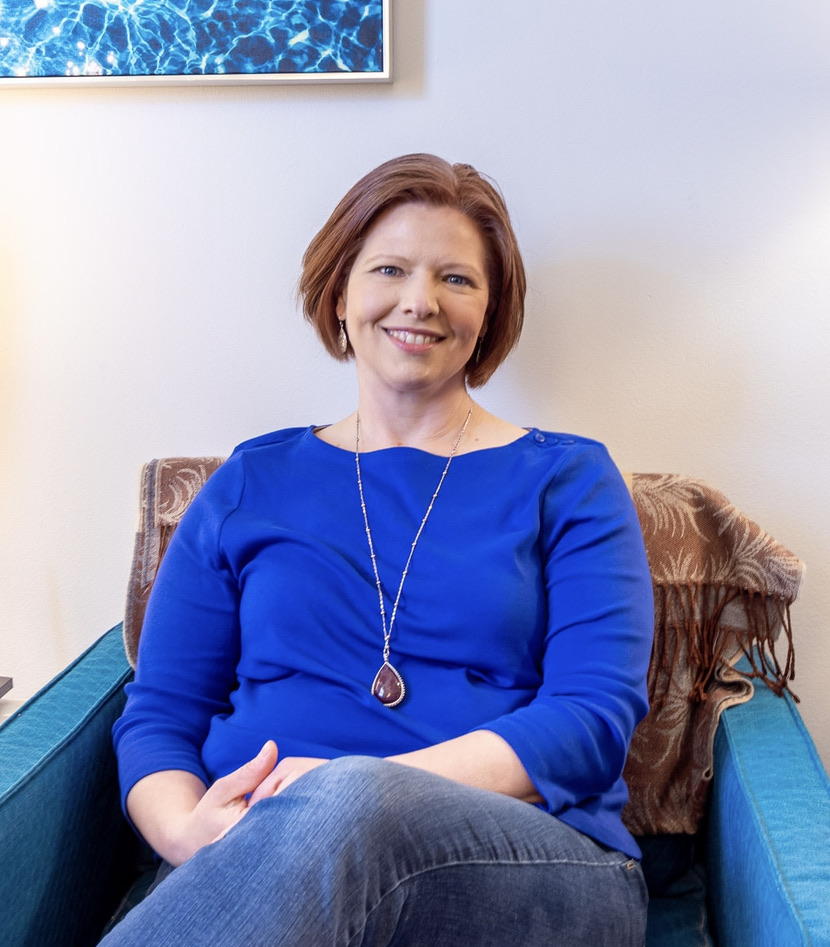 New Jersey licensure allows me to see clients anywhere in the state and I will continue to provide virtual therapy after the pandemic ends.  I have some in-person time slots available in my Livingston, New Jersey office.  
===============
Hi!  I'm Christine.
In reflecting what you might like to know about me, I thought about why I became a therapist.  If I dial the time machine back to the 1980s, I loved helping my friends work through their problems.
What I loved as much as conversation was music.  After a few years of piano lessons, my teacher suggested we sit down at the organ in her studio.  As a fifth grader, I began my training as an organist and began playing in churches.  By high school, I worked as an organist on weekends.
Well into adulthood, I work to find the balance between music and listening to people's stories.  Opening my practice a few years ago allowed me to see clients during the week and work as a freelance church organist throughout New Jersey.  Like you, I struggle to maintain a healthy balance between work, people I love, and self-care activities.
For fun, I journal daily, enjoy running, and reading.  I also consume a hearty diet of podcasts and documentaries.   I adore bad puns, karaoke, and singing at the top of my lungs in my car.
Curious and intelligent creative types are my favorite people to work with.  Bonus points if you don't mind that we might laugh in sessions sometimes.
Your comfort is important to me.  I've got a giant ottoman for your feet, pillows to lean on, and a table for your coffee. (This applies if you come to my office when covid is behind us!)
If we're meeting by way of a computer screen, you might be pleasantly surprised to find that we could establish a connection this way, too.  We might have some technical glitches now and then but I've found that virtual therapy has so many benefits.  I'll suggest you read my blog posts about virtual therapy to get a sense of what the advantages are as well as a page with some additional information.
I'd love to hear from you!  If you have any questions about what it's like to work with me, please email me at cmgsnyder@gmail.com to schedule a free 15-minute phone consultation.
Frequently Asked Questions
How can I be sure you understand what I'm going through?
No one can ever know your exact life experience, except for you.  A therapist does not have to experience the same things you do in order to understand you.  Treating you with kindness, compassion, and empathy is always the starting point because you may not have felt those things in relationships with others.  It's important for me to hear how you express the things you have been through.  My ear is always listening for your choice of language or your tone of voice.  And I'm also picking up on your nonverbal cues.  
Most clients I work with suffer with anxiety.  If it makes you feel better to know that I have been there, I can assure you that I've experienced paralyzing stage fright while performing improv and working as a musician.  Whatever works for me may not work for you.  It's about us working together to find solutions.  Sometimes the answer is not about learning skills; it's about developing a relationship with the anxiety itself.  We might want so desperately to try to get rid of it before we even know what it's trying to tell us.
How can I be sure you know what you're doing?
Besides undergraduate degrees in sociology and music (University of Pittsburgh and University of Massachusetts, Boston), I completed a master in social work degree in 2004 from Rutgers University in New Brunswick and received my New Jersey clinical license in 2006.  An interest in pregnancy-related issues inspired me to complete a certificate program in perinatal mood disorders through Postpartum Support International.  Presently, I take courses at the Center for Psychotherapy and Psychoanalysis of New Jersey and participate in regular consultation with a group of peers.  There's a great deal of emphasis put on fancy degrees and letters after our name, but it's most important that you and I connect with each other.  No amount of education can teach that.
What sort of approach or modality do you use to help clients?
Psychobabble and jargon isn't the way I roll, but I work through a psychodynamic and psychoanalytic lens.  You might wonder why I'm so interested in your family life or looking so closely at your relationship patterns.  Therapy should never feel like a mystery, especially since you are paying with your money and time.  It is always my aim to be as transparent with you about why I'm asking certain questions.  The bottom line is, I want you to succeed and get what you need out of this experience.
I don't live in New Jersey.  Can you be my therapist?
Unfortunately, I need to be licensed in the state where clients are located.  I am only licensed in New Jersey at this time.
Do you take my insurance?
My practice is no longer in-network with any insurance companies.  My fee for a 45-minute session is $200.  If you would like to use your out-of-network benefits, we can discuss how to submit those claims.  If you don't know what I'm talking about when I say "out-of-network benefits", give your insurance company a call.  I can also help you decipher the insurance company language that seems unnecessarily confusing.  In some cases, I am able to submit an out-of-network claim for you.