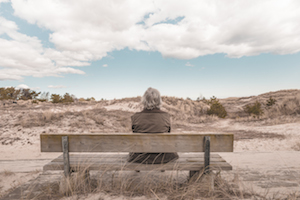 Rising rates of life expectancy can mean extended time with loved ones.  It can also mean increased responsibilities in providing care to an aging parent. Caregiving demands typically fall on individuals as their parents may find it difficult to care for themselves. Sometimes it may be necessary to move him or her in with a relative, into a nursing facility, or arrange care for them.
Companies sell services to family members who may already be stretched raising their children and juggling professional obligations. The people portrayed in commercials for prescription plans or wheelchair-friendly showers always appear sweet, jovial, and loving – the perfect image of what an aging relative embodies.
But this is probably not the experience of most children caring for aging parents. By the time we've assumed care for them, we've already experienced a lifetime with them. Television often propagates an image of parents who are supportive, caring, and willing to dole out helpful advice. What if life with you mother had been on the receiving end of her criticism or if your father walked out on your family? And now that she has dementia or he has cancer and you need to care for them, it may be doubly stressful for you.
Because every family is different, every challenge will be different. It's safe to say that there are some very common stressors for caregivers. Some of these include the following:
• Conflict with your parent. They may not be open to giving up their independence and may express great dissatisfaction with you for suggesting they stop driving after they've had an accident. Or they may disagree with what sorts of care you've arranged for them.
• Dealing with old family wounds. Your parent may have legitimately let you down and it may be hard to put this behind you when you are responsible for tending to their personal needs.
• Disagreeing with your siblings about how to care for your parent. Dissenting opinions on what kind of care your parent needs may cause a great deal of friction between siblings.
• Your own life might be a shambles. Mom or Dad's illness doesn't wait until your life is neat as a pin. A chronic illness or a tremendous decline in cognitive capacity may feel like it happens at the absolutely worst time. You may be dealing with your own family issues or be going to school full-time.  You may be having marital problems or struggling with your own illness, or any number of issues.
One of the most basic ways to handle the myriad stressors of caregiving is comprised in one tiny word: self-care.
Think about the interminable safety video before a flight. As the narration drones on, the flight attendants show you that when the oxygen masks drop out from the ceiling, you must put yours on first before you can help your neighbor. When we are in a caregiving role, we often put their needs first, even if they weren't Parent of the Year.
We cannot deal with the endless stressors of caregiving if our own tank is running on empty. It's important for us to take time for ourselves; this can mean different things for different people. It can involve tapping into our support system and going out for a girl's night out or a round of golf with our buddies.
You might also find that now is the time to seek the assistance from an empathic and trusted therapist. Old family wounds may interfere with your ability to meet the needs of your parent. You may also feel better by sharing with someone who can help you navigate difficult caregiving choices.
Our experience as caregivers might feel more like being on an airplane that's losing altitude.  So remember the importance of putting on your own oxygen mask first.
If you would like to explore the possibility of working with me, my practice is located in Livingston, New Jersey.  I can be reached at christine@snyderlcsw.com.